X-Socks Trekking Energizer Compression
A long while back James from buy x socks sent me  these Socks For me to try! I'm A big fan of x socks and have a few pars of their brilliant airforce 1's along with a couple of other pairs and some of their awesome boxer shorts.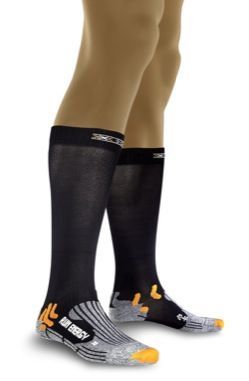 I've been giving them a really thorough testing on longer walks and decided that they are most definitely going to be part of my kit that I take on the coast to coast.
X socks compression are supposed to gradually compress your legs, accelerating the re circulation of blood against gravity and back to the heart.
This is supposed to lead to a lower pulse rate which helps to keep you going that little bit longer.
I can't say I've tested my pulse while out walking so don't know if that is true but I can most definitely say that my legs and feet felt less tired when wearing them, of course this could be down to improved fitness but i would like to to think that they helped.
They completely cover your calfs and fit nice and snug. Not so tight that they ate uncomfortable, intact they are extremely comfortable.
They aren't quite as padded as the airforce 1's but they still have enough padding to keep your feet happy on even the longest of treks.
The only downside I have found is that you can't really wear them with shorts as you look a little bit silly so they aren't great for summer use.
Some people may be putt off by the price as they retail at £18 but I can say from experience that x socks are built to last. I've got some that I've been using for years and they are still in great nick.
If you want to give them a go you can buy them here